Sapelo Island Generator (#1)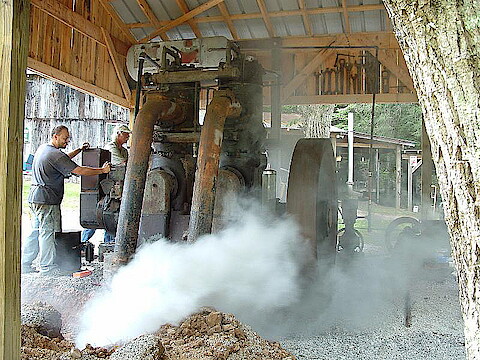 | | |
| --- | --- |
| Model: | 32E12 |
| Serial: | |
| Bore: | 14" |
| Stroke: | 17" |
| Cylinders: | 2 |
| Horsepower: | 120 |
| RPM: | 360 |
| Current Owner: | East Tennessee Crank-Up |
| Current Location: | Seymour, Tennessee |
| Current Condition: | Operational |
Engine History
This engine was one of two 1930s Y models from a private power plant for a tobacco magnate's estate on Sapelo Island, Georgia. It generated power until the 1960s, then sat idle for about 30 years with many of the original tools and parts nearby.
In Summer 2006, the two Y models and a 1950s opposed-piston Fairbanks-Morse were removed by Elden DuRand and Frank Luecke and donated to the East Tennessee Crank-Up. The other Y-model went to the Ashtabula County Antique Engine Club.
A volunteer crew in Tennessee have been working on the engine and re-started it for the first time in May 2009.