Waimea Sugar Mill Camp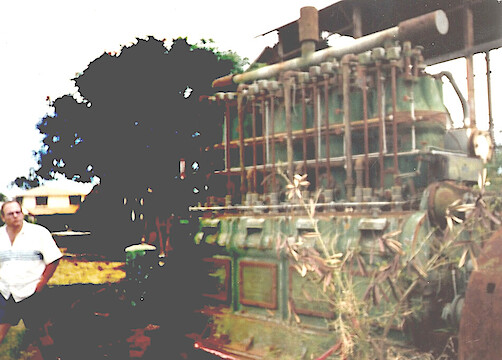 | | |
| --- | --- |
| Model: | 4-160 |
| Serial: | 7162 |
| Bore: | 10¾" |
| Stroke: | 16" |
| Cylinders: | 4 |
| Horsepower: | 150 |
| RPM: | 280 |
| Current Owner: | Waimea Sugar Mill Camp Museum |
| Current Location: | Waimea, Hawaii |
| Current Condition: | |
Engine History
Engine 7162 was sold via the distributor Perine Machinery Company to the Kauai Fruit & Land Company in 1928 to power a generator drive on the island of Kauai, Hawaii. In 1932, it was sold to the Waimea Garage & Electric Company, who used it to generate electricity as part of a privately-owned utility. The company later bought two other Washington Iron Works engines, number 7401 in 1936 and number 7587 in 1945.
After the Waimea Garage & Electric Company upgraded its equipment, the old engines were sold off. Number 7162 found its way to the Kekaha Sugar Mill, where it was used to power pumps used in the ditches that irrigated Kauai's sugar cane (the fates of numbers 7401 and 7587 are unknown).
The engine is now owned by the Waimea Sugar Mill Camp Museum and is on open-air display. According to Old Tacoma Marine Inc consulting experts, Waimea is located in a rain shadow and the relatively dry climate has helped preserve this engine and spare it from undue corrosion.