Waterfall #1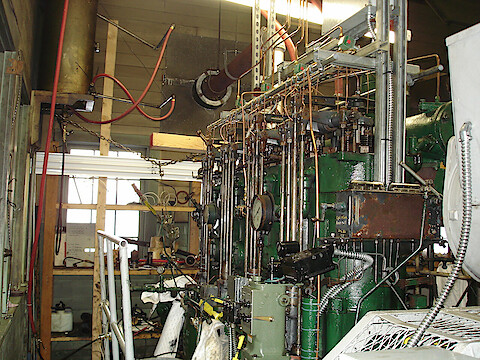 | | |
| --- | --- |
| Model: | 4HS763 |
| Serial: | |
| Bore: | 9" |
| Stroke: | 12" |
| Cylinders: | 4 |
| Horsepower: | 120 |
| RPM: | 400 |
| Current Owner: | Waterfall Cannery Resort (website) |
| Current Location: | Craig, Alaska |
| Current Condition: | shut down |
Engine History
This engine was used to generate electricity when Waterfall Resort was Waterfall Cannery. In about 2004, the engine was brought online to burn up 13,000 gallons of heavy oil left in storage tanks. It powered a generator, primarily during the winter when electricity loads were light.
During this time, maintenance director Steve set up an automatic drip lubricating system, using wire tubes, for all the moving parts that would normally be lubricated by hand. This allowed the generator to run 24 hours a day.
In mid 2008, the engine ran through the last of the heavy oil and was shut down.