Telegraph Cove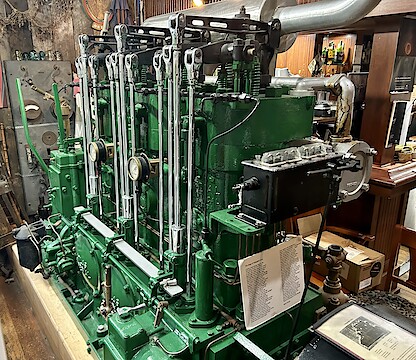 | | |
| --- | --- |
| Model: | 3HM763 |
| Serial: | |
| Bore: | 9" |
| Stroke: | 12" |
| Cylinders: | 3 |
| Horsepower: | 75 |
| RPM: | 325 |
| Current Owner: | Telegraph Cove Lodge (website) |
| Current Location: | British Columbia |
| Current Condition: | Display |
Engine History
The Telegraph Cove Lodge in British Columbia has the Atlas-Imperial diesel engine that served as a generator on display near the bar in the Old Saltery Pub.
The engine was originally installed in a fishboat named the Sundown, which was later converted into a traveling hardware store that traveled up and down the BC coast. It was taken out of the vessel and installed at Telegraph Cove in the 1950s to power a generator. It was the primary source of power for Telegraph Cove until the late 1950s or early 1960s, and ran from 8 AM to midnight.
The fate of the engine was sealed when the engineer saw the lights in his house go really bright. Knowing something was wrong, he ran for the engine room and found the engine &running away.& The governor pins had broken off and the fuel line had broken, and it was speeding out of control. The engineer stopped it by pulling the governor wedges out, but it had already been damaged. The cylinder #2 journal had been hammered out of shape and broken up the bearing, so the engineer took the #2 piston out and ran the engine on two cylinders. The power produced from this arrangement was described as &unsatisfactory,& and they soon replaced the Atlas with a 52 HP Gardner.
The engine was restored in 1998 at Lothar Domier's Micron Machine Works in Port McNeill, and is now a featured part of Telegraph Cove history.