Delta Ferryboat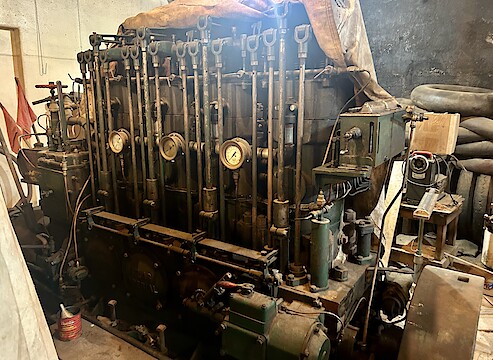 | | |
| --- | --- |
| Model: | 4HM528 |
| Serial: | 22067 |
| Bore: | 8" |
| Stroke: | 10½" |
| Cylinders: | 4 |
| Horsepower: | 85 |
| RPM: | 450 |
| Current Owner: | Ron Brazell (website) |
| Current Location: | Vallejo, California |
| Current Condition: | Display |
Engine History
This engine powered a small double-ended ferryboat on the Sacramento River delta. The route was reportedly subsidized by the local farming community to move produce to market. This engine had two clutches to engage the propeller at the appropriate end; the clutches were controlled with a tall lever positioned amidships on the ferry, beside the steering wheel.
In the 1970s, the ferry acquired a "parts" engine from the Vigorous II, but before new parts could be swapped in, the ferryboat suffered a catastrophic failure. At full speed (450 RPM), the number one cylinderhead reportedly "disintegrated," which dumped cooling water into the cylinder, which, through hydraulic action, broke all four corners of the cylinder head, snapped off the exhaust manifold, and may or may not have sent the piston through the bottom of the engine itself.
Following this incident, this engine and the "parts" engine were sold to collector and salvager Ron Braznell, who has restored both engines.
Incidentally, this engine is an Atlas-Heaps engine; during WWII, the Atlas-Imperial Company licensed its designs to be used and manufactured by the Heaps Engineering Company of Vancouver, Canada. The Atlas-Heaps are nearly identical to Atlas-Imperials, save that their crankshafts, for reasons now unknown, are 1/8" to 6-1/4" larger than those in the Atlas-Imperial models, making replacement of main bearings at times problematic.